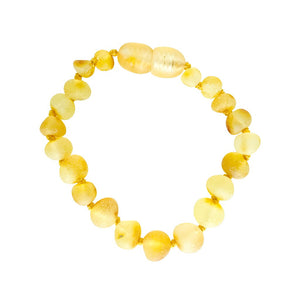 Littlemico
Amber Bracelet - Raw Honey_Wholesale
Regular price
Dhs. 32.80
Sale price
Dhs. 69.00
Unit price
per
Baby teething amber bracelet with raw honey colored beads.
Authentic amber is one of the most potent, natural substances that can rid us of most of our common ailments such as arthritis, anxiety and chronic illness.
Formed by nature, part of the trees millions of years ago!
Certified Baltic amber products 100% pure amber. 

Carefully handpicked, completely natural and handcrafted.
High quality smooth rounded known as baroque Baltic amber beads. Safety individually knotted between beads in case of breakages. Guaranteed Authentic Baltic amber bracelets handmade by our skilled craftsman. Help with teething pain and other aliments. Absorb into skin, not designed for babies or children to chew on, should be removed during naps or unattended. Parent supervision is recommended at all times when baby wears bracelet.
---